Free Dashboard with Weather Station
We have a weather station on our factory building in Trenton Maine.

Click on the image below to see a live demo.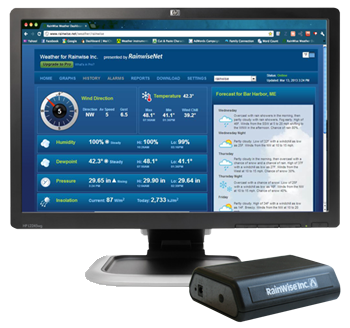 RainwiseNet, the online dashboard for RainWise weather stations equipped with an IP-100 Network Interface, uploading real-time data and displaying it from any web browser.
The RainwiseNet BASIC subscription comes free with your purchase of the IP-100 network interface. Once you register your station the basic package provides real-time access to your weather data, up to 2 years of on-demand data archiving, and the ability to export your data in an excel spreadsheet format. You also can access RainwiseNET through a separately acquired Apple or Android app for your mobile devices.
In addition, your BASIC subscription provides a direct link to register your weather station with any of the following weather networks:
Upgrade to a Pro Account
Upgrade your Basic subscription anytime to RainwiseNet PRO and get all-of-the-above features plus these advanced features:
Color graphs of current and historical data
Alarms and alerts on screen and sent by email or SMS - programmable for any sensor
Customizable Reporting
Export your data by date range or sensor
Export in multiple formats
Expanded administrative options
Personalize your weather page with your own text and links
Upload photos to share with your visitors
To learn about Pro and how to upgrade for $60 a year, please visit our Pro features page.
We have a weather station located at the Rainwise factory in Trenton Maine. To view all of the Pro features login at the top of the page with the user name "demo" and a password of "demo". You will have access to all of the demo pages including the settings page. Saving changes and uploading photos have been disabled.
You can also just view the site without having access to the settings by visiting the Rainwise.net Demo Site
New Owners

New New MK4-C, IP-100 & TeleMet II owners will need to provide the serial number and MAC address of the IP-100. These numbers are located on the underside of the device. You can register before connecting or powering up the IP-100.
Buy the new MK4-C Cellular Weather Station or the MK-III Weather Station & Join the Network
The new MK4-C a compact, modular, solar-powered commercial-grade weather station utilizing an integrated cellular modem with the first year of data free. Our most popular legacy package includes the RainwiseMK-III-LR weather station along with an IP-100 network interface. The IP-100 is a stand-alone interface that simply plugs into your router. The IP-100 receives data wirelessly from the MK-III weather station and sends it on to the RainwiseNet cloud.
Monitor your weather with your data on a PC, Mac, tablet or smartphone.
For more information about the MK4-C weather station visit us at http://www.rainwise.com/mk4-c