Free Dashboard with Weather Station
We have a weather station on our factor building in downtown Bar Harbor Maine. Click on the image below to see a live demo.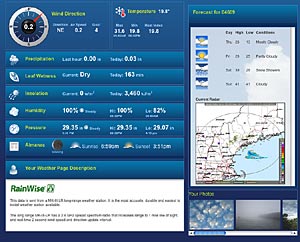 RainwiseNet, the online dashboard for Rainwise weather stations equipped to upload data in real time, displays real-time information from any web browser.
Free Account
A free account comes with every upload-enabled weather station, and provides real-time data, data archiving, and export of archived data in a pre-determined format.
Paid Pro Account (as low as $4.49 a month) - (Coming Soon)
A Pro account provides all the above PLUS visual graphing of data, email and SMS text alerts, a report generation engine, and enhanced exporting of data in several formats.
Here are few screenshots of what to expect:
| Graphs | Reports | Alerts | Exports |
MK-III Consumer:
Monthly: $5.99 per station Annual: $4.49 per month per station (total $53.91) Save 25%!

Commercial, Industrial, Agricultural and Forestry will be slightly higher depending on additional features and sensors.
---
New Owner:

New IP-100 owners will need to provide the serial number and MAC address of the IP-100. These numbers are located on the underside of the device. You can register prior to connecting or powering up the IP-100.

Returning Customer: Log In





Buy a MK-III Weather Station & Join the Network
Our most popular package includes the RainwiseMK-III-LR weather station along with an IP-100 network interface. The IP-100 is a stand alone interface that simply plugs into your router. The IP-100 receives data wirelessly from the MK-III weather station and sends it on to the RainwiseNet cloud.
No computer is required.
With RainwiseNet you can share your data with numerous other weather websites:
Check out our
live weather
page for more details.
For more information about the MK-III weather station visit us at
www.rainwise.com
RainWiseNet Feature Comparison: Free vs Pro
| | | |
| --- | --- | --- |
| Feature | Free | Pro |
| Real-Time Data | | |
| Data Archiving | | |
| Basic Exports | | |
| Enhanced Exports | | |
| Graphing | | |
| Report Generation | | |
| Email Alarms | | |